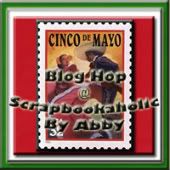 Good Morning to all!!!
 Happy Cinco de Mayo!!!! I am so excited for today. I get to wear a shirt my sister bought for me in Mexico to work. My students are going to perform the Mexican Hat Dance. It should be fun!!
Well on to the blog hop. Today's Hop is hosted by the wonderful and Extremely Talented
Abby
. You should have arrived here from 
Linda
.
I am so super excited to be part of it. If many of you don't know the history behind
Cinco De Mayo
here is a little info for you from Wikipedia:
Cinco de Mayo (Spanish for "fifth of May") is a holiday held on May 5 that commemorates the Mexican army's unlikely victory over Frenchforces at the Battle of Puebla on May 5, 1862, under the leadership of General Ignacio Zaragoza Seguín. It is celebrated primarily in the state of Puebla and in the United States. While Cinco de Mayo sees limited significance in Mexico itself, the date is observed nationwide mostly in the United States as a celebration of Mexican heritage and pride. "Cinco de Mayo is not a Mexican holiday—it is anAmerican Civil War holiday, created spontaneously by Mexicans and Latinos living in California who supported the fragile cause of defending freedom and democracy during the first years of that bloody war between the states." Cinco de Mayo is not Mexico's Independence Day, the most important national patriotic holiday in Mexico.
For today's project I created a Card for my Hubby. Here it is:
My Inspiration. LOL
Used Birthday Bash for pinata.
Handmade tissue Paper Flower and
Hand written sentiment!











Hope you enjoyed this card. I had a lot of fun creating it. I am off to make a few more for my co-workers. I might just add some mexican candy inside. Yum!                                                            
Off to
Patty
If you want to start at the beginning, here is the Line up of all the fabulosity!!
Abby~
http://www.scrapbookaholicbyabby.com/
Angelica~
http://www.handmadebyangelica.com/
Erika~
http://www.cricutlove1.blogspot.com/
Gaby~
http://www.gabycreates.com/
Kich~
http://www.scrappykich.blogspot.com/
Linda~
http://www.krazyquilling.com/
Monica~
http://simplycricutting.blogspot.com/
Patty~
http://mynameisscrappy.blogspot.com/
Raven~
http://love4stamps.blogspot.com/
Sandra~
http://www.365daysofcricut.blogspot.com/
Xochitl~
http://cricutcritter.blogspot.com/
Yolanda~
http://www.justyolie.com/
Toodles!!!