Hello my friends.
   I have been on a very long but needed vacation. I feel reenergized and refreshed!! Time to get some crafting done. This upcoming July 30-31 the wonderful
Sandra
365 Days of Cricut
 is celebrating her Birthday with a
Butterfly Birthday Blog Hop
!!!
Please stop by and join is in celebrating her Birthday. She is a dear friend of mine and I love her dearly.
Happy Birthday Sandra!!!! Let's do this!!!
 See you ladies real soon!!!!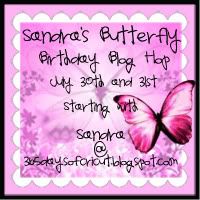 Toodles,